She Is Not Invisible- Marcus Sedgwick
Laureth Peak is sixteen years old, and blind. Her younger brother, Benjamin, is strange.
For years, their father has been trying to write a novel about coincidence. One day, his notebook shows up in New York, despite his saying that he is conducting research for the novel in Austria. On impulse, Laureth steals her mother's credit card, and takes herself and her brother to America to claim back the notebook. Inside its pages are a series of clues, which lead Laureth and Benjamin into situations that would be dangerous for anyone.
She Is Not Invisible
is a story concerned with hope, coincidence, and surviving as we are, as well as expertly expressing the issues with human judgment.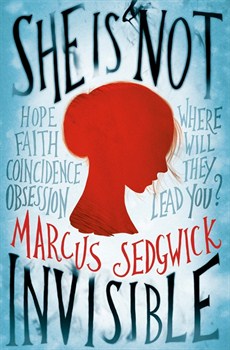 I am the kind of reader, who likes to read books that explore unique views of life. This is one such book. It exists inside the mind of a person who is used to being judged, both for things that matter and for things that don't. It is about bravery, as well as coincidence.
But more importantly, it is a brave write, and intelligently so. It is not obvious. It is not a novel about a blind girl. It is a novel about two extraordinary characters, their relationship, their challenges and their captivating tale.
Fancy a read? Click here.